Thin Flyers
Our thin flyers have a multitude of purposes from promotional campaigns to events.
Prices start at $52
Get Started →
Plastic Business Cards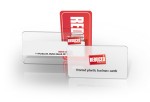 Looking for plastic business cards to help promote your small business? Reduced Printing offers a wide variety of all types of business cards for less money!
Prices start at $74
Get Started →
Linen Envelopes
Looking to upgrade your current stock of envelopes? Linen envelopes will make a great first impression and larger orders cost less than a penny more per envelope!
Prices start at $214
Get Started →